It's really as if I was in Britain while I travelled to Germany this autumn, it rained almost every single day...Well of course it's inconvenient in rainy days but it brought a different sort of beauty to the earth. My original plan was taking the Bayerische Zugspitzbahn cogwheel train to the peak of Germany Zugspitze from GaPa (Garmisch-Partenkirchen). However I had hesitations like the low visibility; I was not going to ski; not very fond of snow mountains because I saw the Mount Everest and I think it's a bit ugly; had to catch the last bus to Fussen...things like these. Finally I made up my mind there - to view the Zugspitze from another angle.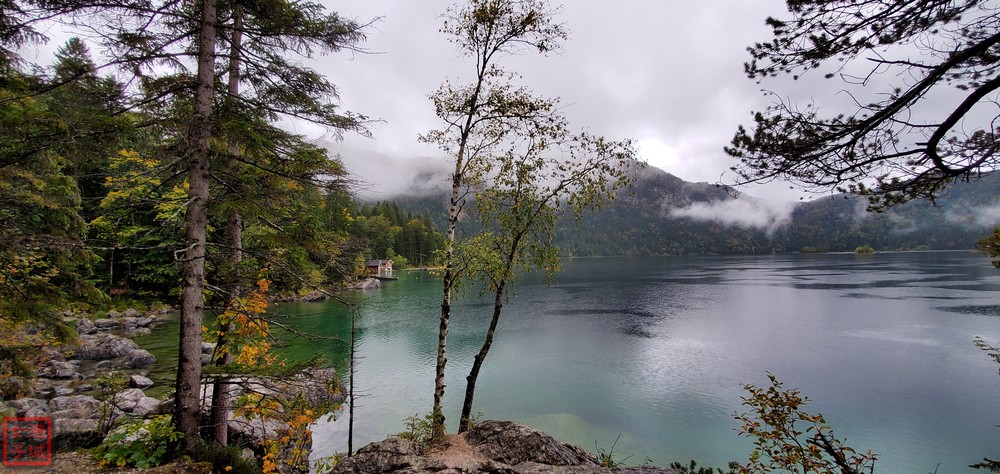 It took me around 3 hours to surround the lake. Both the starting point and ending point is the bus stop/cable car station, no matter you start from right or left. I was going left, facing towards the lake, so that the lake view was on my right hand side. I arrived quite early in the morning by 9 am. The sky was grey with a few spots of rain, no tourists. Actually no one was there except an old lady who worked there at the restaurant. The morning mist was still floating in the air and my first impression was like, wow, it's heaven.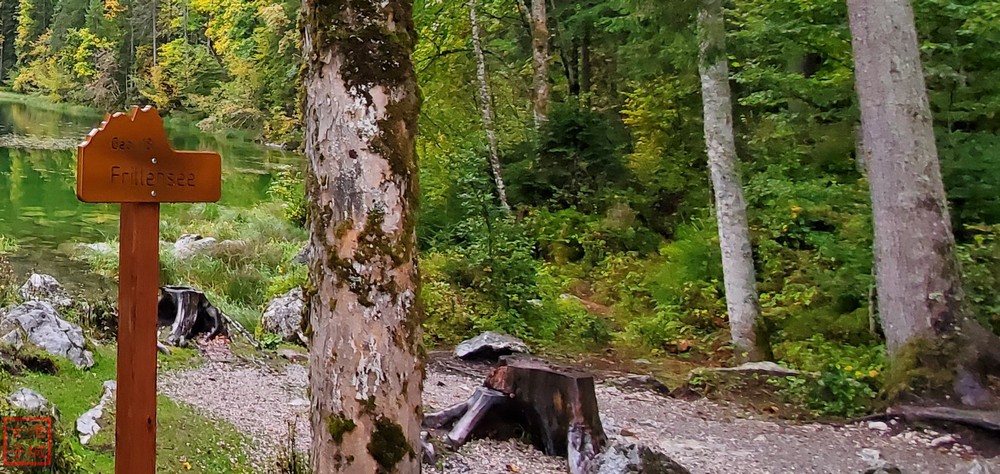 Well yes Eibsee was beautiful but perhaps it's preconceived. I started my journey for about 15 minutes or so and saw a small lake at trail's left - with a signage written 'Geo 18 Frillensee'. I guess 'see' means 'lake'. Unfortunately I did not read German, nor did I know anything about the existence of this place. My ignorance at that very moment took my breath away. It's like walking into the Maleficent's forest.
Actually in Berchtesgaden they have a so-called 'Magic Forest' Zauberwald, yet I personally think this Frillensee at Eibsee is more magic forest like. The photo couldn't really caption that atmosphere of mystery, surrounded only by nature with trees, lake and mountains, no mankind. One of the advantages of solo travel? Forgive me but I have a note - no man ever steps in the same river twice. There's no gurantee that you'd be able to see this again even if you're here someday.
Walking along the lakeshore of Eibsee, I felt like I had to Whatsapp some photos to my friends. It's just too stunning that I ran short of words in describing it. The mist created an additional layer of colour on top of the green hills and blue waters. I hadn't yet reached the point where direction is towards the snow mountain, otherwise it'd be even more magnificent. Although it was cold, I stopped for about 10 minutes before I was willing to go.
I had been hiking all the time in this trip to Southern Germany. Eibsee provided me with a rather nice route with nice landscape all along so I wouldn't find it boring or tiring. If you do feel tired, go sit on a bench and enjoy the scenery. Why bother to find a cafe? Accompanied by such fine view and fresh air, this is the best seating in the world.
We're getting to the path where people can have a view of Zugspitze now. They thoughtfully set up a map sign, although it seems pretty retro and lacking maintenance...anyway, the highest peak at the right hand corner is Zugspitze. Down below is like a full picture of the view, it includes the mounts tagged in the map, also an island in the middle of the lake but I'm not gonna put the photo here, didn't make a nice shot. And also the cable car can you see it? These gradient layers of hills and lakes are just spectacular. Informaion shows cable car runs between Eibsee and Zugspitze, thus it is usual to go visit Zugspitze in the morning and come down to Eibsee as I see from others' travels.
Subsequent to the backdrop picturing centre island, snow mountain and cable car, I continued my journey in my true enchanted forest. Hard act to follow, the views along the latter part of the trail became less stunning but even the most common part was still charming. It's almost noon and I saw more and more tourists coming. I guessed I got closer to the exit? Seemed to be yes according to the Google Map.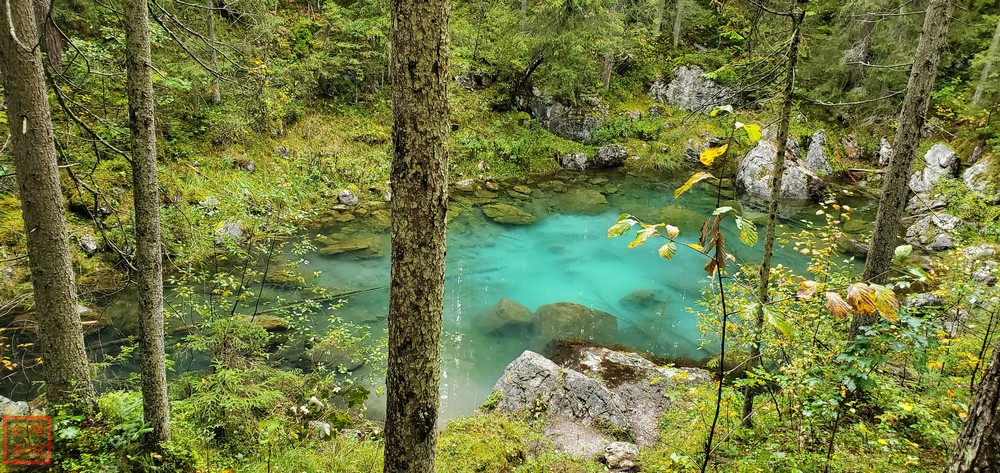 At the moment when I saw the buildings, I knew that my magical tour came to an end and it's time to go back to the human's community. You can find bus stop, cable car station, hotel and restaurant here. Maybe I can come again and make a stay here someday if I get rich, but for now I guess I'd just walk around as a salarywoman. Here's my starting point of the Eibsee tour; I made a round and remember my route was starting from the left. If you wanna do it another way round, start from the right way. I crossed that very last bridge and had to say bye bye to Eibsee. Thank you for letting me having such natural beauty.
How to get to Eibsee by bus from Ga-Pa town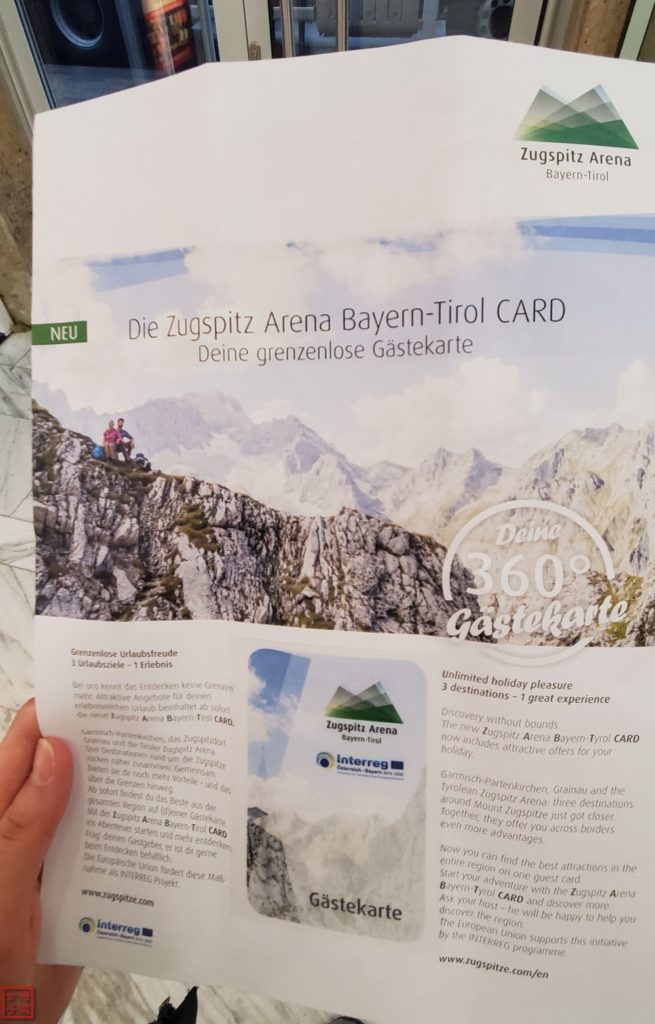 If you're staying at Ga-Pa for at least a night, you should be able to get this guest card,details here. It's very rewarding being a self-guided traveller here in Germany. The first thing is that in many places you pay the city tax, they offer you a guest card for free transport in return. And the second thing is free breakfast included for YHA hostels...OK I'm getting too far now. Anyway I used this guest card to take the buses. It's actually just a plain paper with your name and a bar code printed on, it had some kind of plastic cover stuck on the paper and I just tore the card off. It's designed for one-time use so there's no bother returning the card and you can use it for the whole day of your check-out date. However you do need to reserve some time for their production of card when you check in.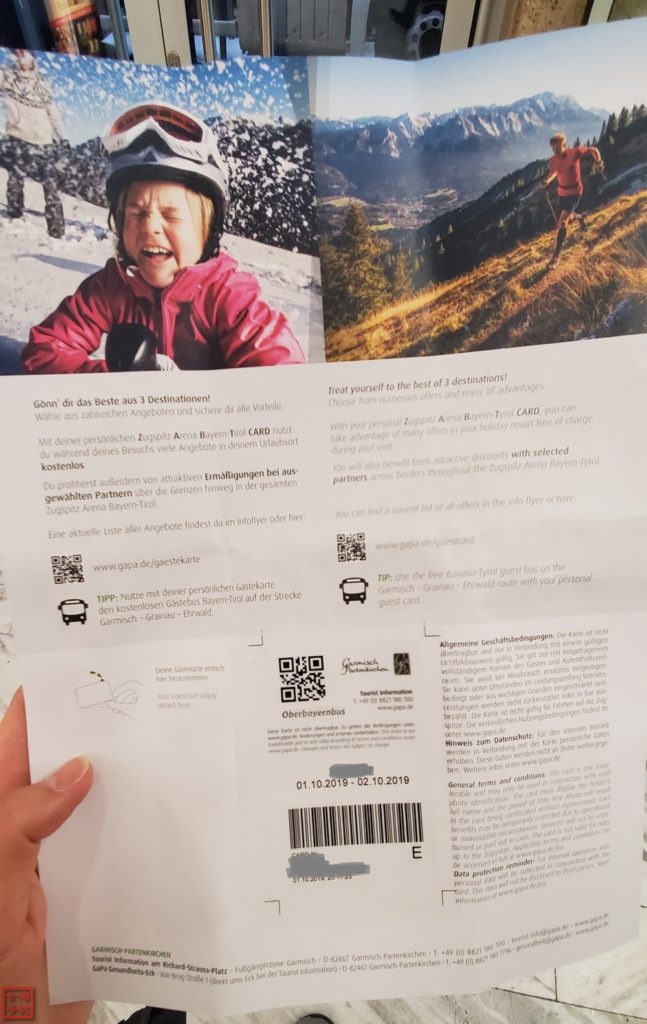 As for the bus to Eibsee, it doesn't have a number, just the name EibseeBu. Yet it did not show 'EibseeBu' but 'EVG' on the bus, I guessed that the bus company's name? Fortunately they had the destination Eibsee shown. It rained and I was with my umbrella, nearly missed the stop and the bus. The stop was not the one just outside the train station but a little bit far away. The Google Map illustrated a generally correct route but the pinned bus stop was not that accurate. On that road you have two bus stops and down below you see my picture: the smaller stop next to the post office, opposite to the road is the right one. 'EibseeBu' was indicated in blue colour on the information board.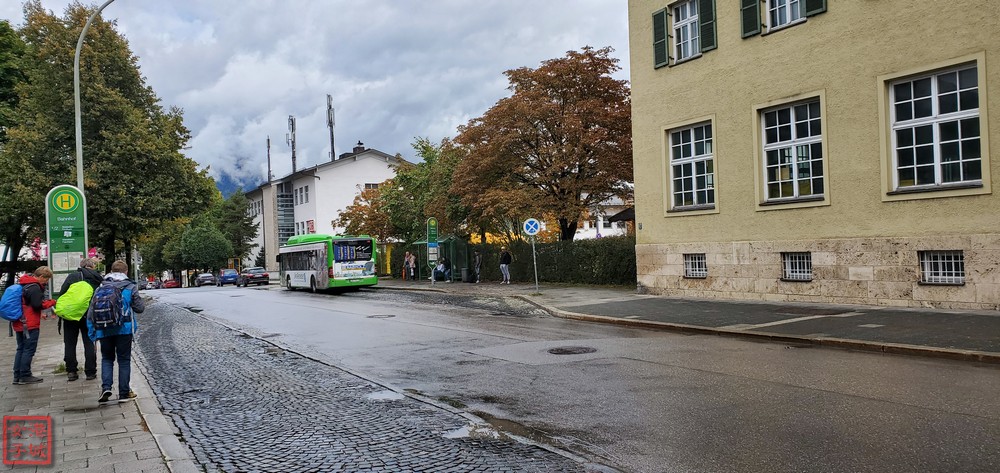 I also took a photo of the bus at the bus stop when I returned. Well actually I didn't mean to take this, I was focusing on the scenery haha. OK that's it. Now if you are interested in my other travels 'Southern Germany Itinerary+Salzburg+Zurich+Doha Transfer BTW' and 'Neuschwanstein Paragliding Experience', you're welcomed to make a click and enjoy reading.